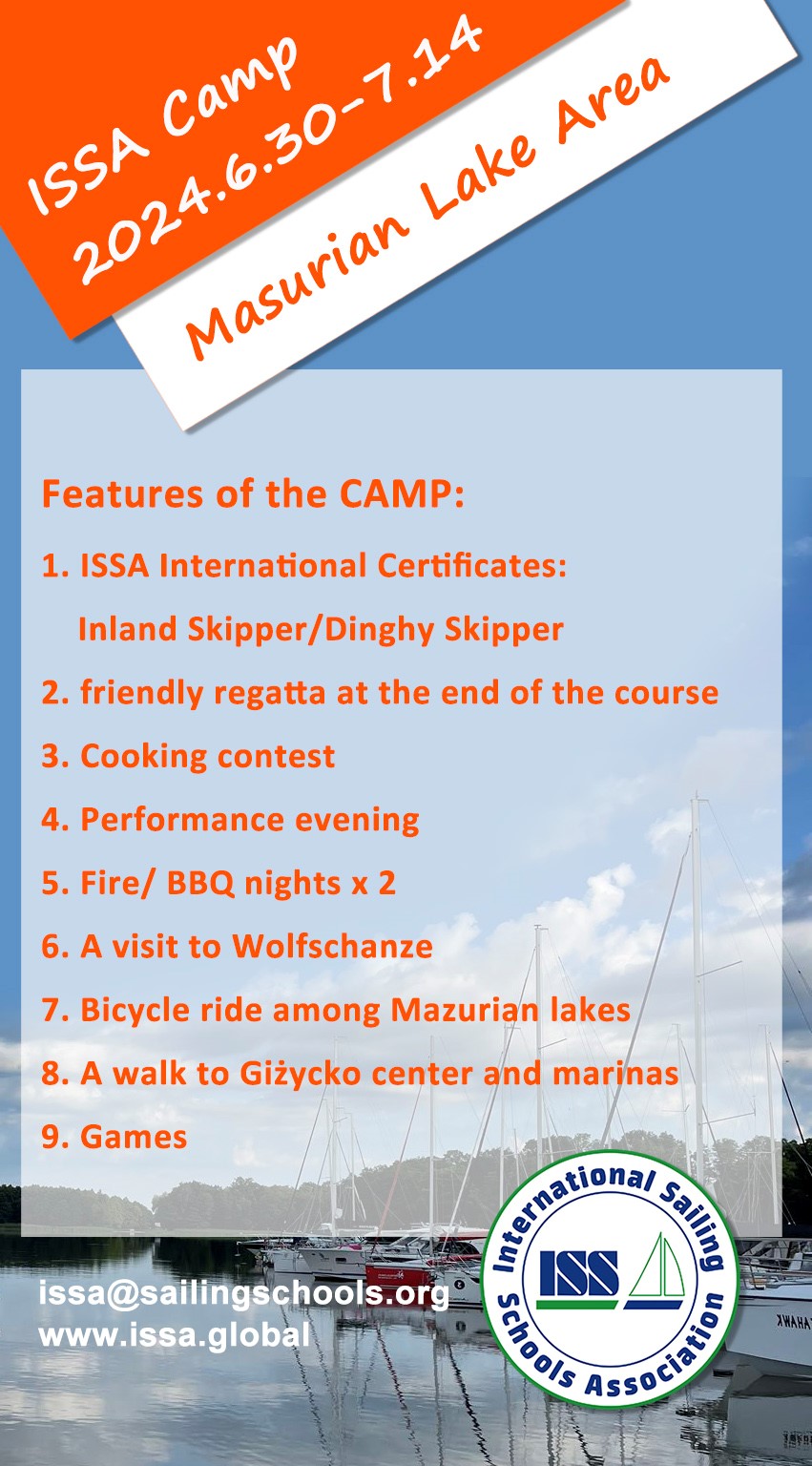 ISSA Sailing CAMP 2024
Date: 2024.6.30-7.14
Location: Masurian Lake District, Poland
Join us at the ISSA Sailing CAMP 2024, where the wind meets the water and memories are made!
Features of the Sailing CAMP: 
Certification Excellence: Receive top-notch training to become an Inland Skipper or Dinghy Skipper. ISSA International Certificates will be awarded at the end of the course, setting you on a course for international sailing success.
Friendly Regatta: Put your skills to the test in a friendly regatta at the culmination of the course. Compete, have fun, and feel the thrill of sailing!
Culinary Adventure: Embark on a culinary journey with our Cooking Contest. Each yacht's crew will prepare mouthwatering dishes from their country of origin. Get ready for a delicious cultural exchange!
Performance Evening: Let your talents shine! Crews will entertain everyone with performances from their home country, whether it's singing, acting, or a combination of both. It's a night of cultural celebration!
Bonfires by the Lake: Experience the magic of two unforgettable fire and BBQ nights under the starry Masurian sky. Share stories, laughter, and marshmallows by the crackling fire.
Visit to Wolfschanze: Dive into history with a visit to Wolfschanze, the former Hitler's headquarters. Explore this fascinating site and learn about its intriguing past.
Bicycle Ride: Discover the picturesque Mazurian lakes on a scenic bicycle ride. Nature lovers and adventure seekers, this one's for you!
Exploring Giżycko: Take a leisurely walk to Giżycko center and marinas. Immerse yourself in the charming local atmosphere and soak up the beauty of the town.
Games Galore: Get your competitive spirit in gear with a variety of games and activities. It's all about fun, teamwork, and making new friends!
Don't miss out on this incredible sailing experience in the heart of the Masurian Lake Area. Join us at the ISSA Sailing CAMP 2024, where adventure, learning, and laughter await!
For inquiries and registration, contact us: issa@sailingschools.org