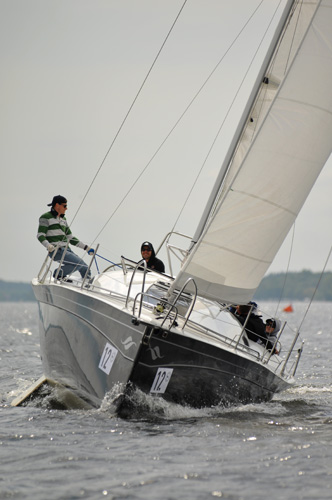 In these days hardly anyone has enough time to enjoy their hobbies or most favourite activities. And if it happens that we have some time available we desire to use the opportunity to the ultimate extreme.
The very same refers to learning yachting. Chartering a yacht costs money and so does our time. When we want to learn sailing to become efficient skippers or even useful crew members we should get some training. It is so much faster and cheaper than learning by our own mistakes.
Naturally, we could buy books and try to get as much knowledge from them as possible. It is a good approach and there is a lot that we can learn from yachting handbooks (like navigation, colregs, how to read charts, how to plan passages and much, much more). Unfortunately or – as I think – fortunately, yachting is an activity of extremely practical nature.
It used to be one of the basic means of transportation about 100 years ago. Meanwhile the situation changed dramatically. Today we have airplanes, cars, trains and other vehicles at our disposal and sailing is definitely not the main means of transportation any more.
Yachting is more like a life style now. It is about being part of the nature, enjoying the sea, the wind, sky (does not matter whether it is clear or cloudy). It is about being prepared to unexpected. It is about sharing moment of beauty with friends or family members.
In order to do so in a safe and efficient way, you need somebody to introduce you into the activity. Not every one has a friend who is a sailing enthusiast. And even if there is such an individual in our surrounding they should have some skills to pass their expertise to us.
ISSA instructors are here to help you to get into the world of sail and power yachts in an efficient and time-effective way.
To make sure that instructors working in ISSA schools operate at the highest possible level, ISSA have launched an instructor training programme addressed to advanced yachtsmen and women (with skills at level of offshore skipper at least).
Phase One – In the first days, the skills and capabilities of the candidates are accessed and fine tuned to reach even level throughout the group.
Phase Two – Still very practical but focusing on didactical training only. Candidates, one by one, give presentations and are evaluated by each other. All these to develop their teaching skills. After one week of such a training and positive assessment they are free to start phase 3.
Phase Three – Temporary instructors, as they might be called are asked to practice their instructing skills in real life. They are expected to run training lessons with actual students in one of the authorised ISSA schools. After few weeks of working as terminators they finish their ISSA instructor education with:
Phase Four – Exam. Exams are done twice a year in the Spring and in the Autumn. This procedure is to make sure that all instructors keep similar standard regardless at which training centre and ISSA school they got their instructor skills.
After that they are free to go and share their passion for sailing under ISSA flag.
Tomasz Lipski